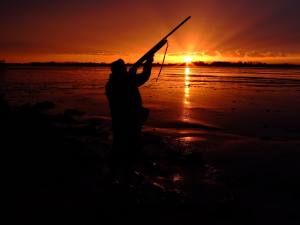 Wildfowling is the pursuit of geese and duck, usually on estuaries and coastal marshes. It's one of the purest and demanding forms of hunting requiring considerable stamina, patience as it takes place during the winter months in wet, muddy and often cold conditions.
Truly wild birds are the quarry so an intimate and detailed knowledge of their habits is required in order to understand where they fly in order to ambush them when they move around the harbour at certain times such as day break, the evening or high tide. Often, despite many hours spent on the marsh, a shot will not be fired.
Excellent shooting skills are required when opportunities present themselves, as well as the ability to identify legitimate quarry from protected birds in poor light and difficult conditions. An inexperienced wildfowler can easily be cut off from the land by the twice-daily tides or become disorientated by the sudden descent of fog so a sound understanding of the area and the means of moving safely about on the mud is essential.
It is these challenges that make the sport so appealing to the dedicated wildfowler. To be out in such natural places learning the ways of such fascinating wildlife is a pleasure and the occasional reward of a Sunday lunch makes it so satisfying.